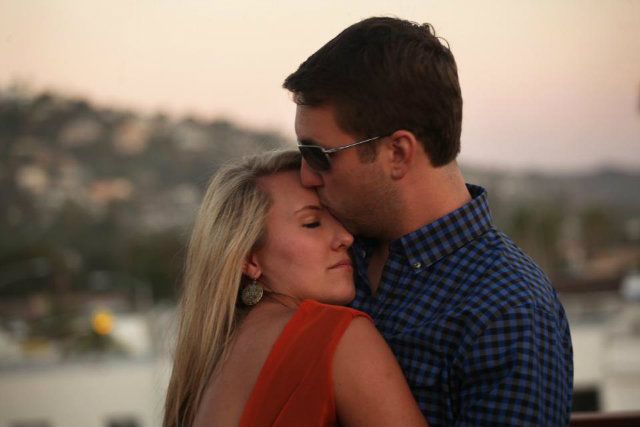 I want to share a story with you so you can get to know me a little better and get a recap of what I have been going through the past year...
As many of you know, the past couple of years have been up and down in the love department. I came out of a 14 year on-again, off-again friendship/relationship with someone who was my best friend. I really thought that was going to be it, but something just didn't feel right. No matter how much I loved him as a person and wanted to make it work, it just didnt. And something like that shouldn't be so hard, and in the end - we just couldnt be what the other needed. Leaving that relationship was the hardest thing I had to do, but one of the best decisions I came to terms with. For me and him both.
I truly had anxiety over the countless questions women ask themselves... Will I find someone again that I'm attracted to
and
makes me happy? Will I have to settle the next go around? Will I have to wait until I am old until the right one comes along?
I would almost have panic attacks wondering what the right thing to do was. But the moment I just let it be, and focused on myself... I was blessed with the best thing to ever happen to me.
While in my "I'm only doing the 'Me' thing" phase... I happened to meet Cody. I honestly thought about standing him up on our first date because I honestly just wasn't looking for anything and really wanted to be alone in my self loathing and self focusing. But the prompting of free pasta won me over.
What I had planned on being a quick 1-hour early-evening date turned into talking and laughing until the restaurant closed. What the heck? This guy was completely ruining my plan of selfishness. But my heart wasnt ready and he respected that. He waited while we got to know each other better and slowly grew feelings for the other. He showed me how to be a better friend, exemplified patience, and taught me and allowed me to be myself again and to just laugh at life. For the first time in a long time, I could bring up subjects without being embarassed. I could act like I was 12 at wal-mart and then a classy woman at dinner. He allowed me my versatility as a woman and as a person. And he embraced it.
He treated me with the highest regard. Respected me, listened to me, and most of all - made me laugh. Alot. This was when I began to feel that there really could be something more here.
This is the first part of my love-life recap! Hope you guys come back for tomorrow's part 2!!