I feel O so loved! Here are two brand spankin new sponsors for ya!
Please meet Miss (about to be Mrs.) Amanda. She blogs over at
For Love Of A Cupcake
and is a daily obsession. Her and her boo are both GORGEOUS people and she is an awesome blogger and will soon become your favorite too.
Hi! I'm Amanda and I blog over at For Love of a Cupcake! I'm a crazy, goofy, clumsy, exclamation point lover, baking up a storm, Strarbucks addict! I'm engaged to E and we tie the knot on 9/28/12! Wedding plans are full speed ahead! We love to work out and eat healthy...I know...boring right?!?!! We have the cutest pup...Chloe the Cockapoo! And in March...we will bring home our newest addition...a bullmastiff pup to be named Tank! I hope you'll stop by and enjoy the randomness!
~~~~~~~~~~~~~~~~~~~~~~~~~~~~~~~~~~~~~~~~~~~~~~~~~~~~~~~~~~~~~~~~~~~~~~~~~~~~~~~~~~~~~~~~~~~
And please meet the lovely Corina! She blogs over at
Corina's Corner
. I LOVE her blog. She takes AMAZING pictures and always keeps me entertained. Her and her hubs are also a beautiful pair so go check her out!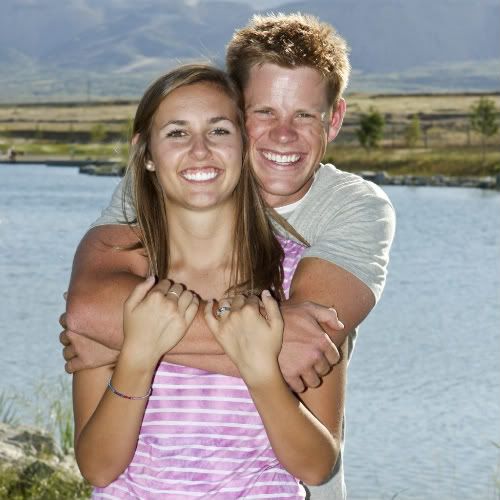 My name is Corina Sorensen. I am from beautiful Colorado, but currently live in Utah where I am attending Brigham Young University. I am studying Technology Engineering Education. I have been married for almost a year and a half, to my best friend and the best looking man around. My husband is also still a student at BYU studying Manufacturing Engineering. We're both just about done with school, right on the edge of starting "real life."
I love photography, skiing, and spending time with my family.
Go on and check 'em out!