So... Can I please just start off by saying thanks to everyone for all the comments on yesterday's post?? You guys are perfectly awesome. They made my entire day and now I feel fearless.
Oh and may I please share with you an embarassing story that happened yesterday? Please??... Okay thanks... Here it is. (Oh and if you don't have time to read this little story which sums up my life.. skip to the next half for some good stuff)
Right as I was leaving work, the sky-with its laughing senese of humor - decided to start pouring down rain. Naturally I was having the best hair day prior to this prank. Of course, my car was parked on the 7th floor of the furthest parking deck and the elevators of the parking deck were FREEZING. Seriously... think ice box. All I can do is think about getting in my car and blasting the heat.
Level 5, 6, 6 1/2..... eerkjoaidjoigj;a. The elevator stops. And despite all my efforts of button pushings, "C'MON!!!", and scoffs, I was stuck.
Luckily there was a little call button in the elevator... "Hello.. Yes.. Im stuck... this is where I am.... yes that parking deck.. yes this elevator number...um hello?".... Click.
Call again.... same thing.
Call again.... same thing.
Now im starting to lose it. Finally I call again and demanded that I be saved. "Is this going to take a while?"... "Yup".. "great".... to finish up this lovely story... the maintenance people finally come to my rescue and set me free. Awkward. Thank you rescue people.. you rescued me well...and control line people... were you really just messing with me? Story of my life.
Waiting, waiting, and waiting...
~~~~~~~~~~~~~~~~~~~~
Okay moving on.... Time for some needed words of advice (from you) and some good news. I am continually playing with the look of this beloved blog and want to know what everyone likes best for aesthetic purposes. I would love your advice, your tips and tricks, or what you would like to see more of. Be harsh, be honest... Im ready for it
And there is a rumor going around that once the number of 50 followers is reached... there will be a GIVEAWAY. With that... I want to know what giveaways you all are interested in... I can be pretty giving.
Happy Friday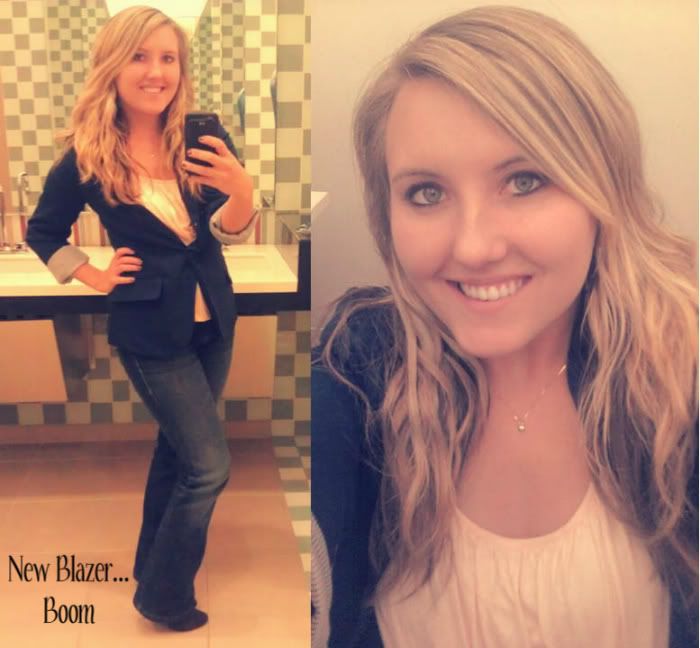 Blazer-Papaya $21, Shirt -Papaya $13